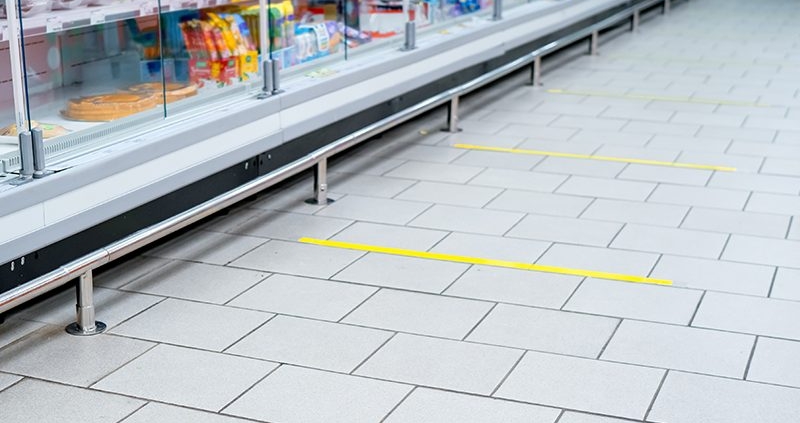 As a tape manufacturer we have always been aware of the importance of lane marking tapes, however the recent months show, that lane marking tapes have become an essential part of our everyday life.
To tackle the pandemic of Covid-2019 many governments have introduced social distancing rules, so that people can keep the safe distance in shared spaces such as factories, offices, hospitals and supermarkets. There are many options organisations can use for managing social distancing, but one of the easiest and most efficient solution is using lane marking tapes.
Why are lane marking tapes good for social distancing signs?
Lane marking tapes are designed to be used in warehouses and production plants to help with the organisation of factories (5S) and ensure health and safety of staff members. The tapes come in different colours which makes it easy to mark different areas, e.g. yellow can be used to indicate pedestrian routes.
You can find out more about the different messages associated with different colours from our previous blog post. There are also colour variations which are recommended for marking hazardous and dangerous areas.
The tapes can be applied on floors or walls, so that the message is clear and visible to everyone. For this reason they serve very well the purpose of social distancing.
AT8 Lane Marking Tape and AT8H Hazard Warning Tape
At Advance we manufacture 2 products which are ideal for managing social distancing:  AT8 Lane Marking Tape  and AT8H Hazard Marking Tape.   
Both tapes are made with low-stretch PVC which enables the tape to keep the same shape once it is applied. Whether used by hand or with a dispenser the tape can easily stay in a straight line.
Both tapes are abrasion resistant for a long-lasting effect and can be walked on immediately after the application, which means you don't need to wait.
The tapes can be used both indoors and outdoors and have an excellent water- and UV resistance. These tapes are ideal solutions for businesses and organisations to introduce and manage social distancing requirements.
 How to apply lane marking tapes?
Whereas the application of lane marking tapes is very easy and it doesn't require any special preparation, we have complied for you a quick best practice guide, so that you achieve the best results.
Clean the floor and allow it to dry fully before applying tape. It will usually stick if you don't do this, but the end result will not be as long-lasting or as attractive.
Consider using chalk to sketch out guidelines before applying the tape.
For large floor areas, it may be easier to use an applicator tool to ensure straight lines and complete the job faster with a more professional finish.
Remember to use continuous lines for lane marking, but if you're labelling areas, you might only need to mark each corner of the area.
For even clearer communication, consider adding name labels to your colour-coded areas.
To make social distancing even more efficient we have launched Social Distancing Kits which include lane marking tapes, hazard warning tapes and relevant signs for industrial and retail premises.
Contact our sales team to find out more. If you have any questions about using our products, please contact us! Call +44 (0)116 251 0191 or send an email to sales@advancetapes.com to speak to our sales team, who will be happy to assist.
https://advancetapes.com/wp-content/uploads/2021/01/Tape-Talk-pic-yellow-tape-1.jpg
600
800
webmaster
https://advancetapes.com/wp-content/uploads/2021/01/logo.png
webmaster
2021-01-14 21:11:59
2021-09-03 10:59:02
Social distancing with lane marking tapes