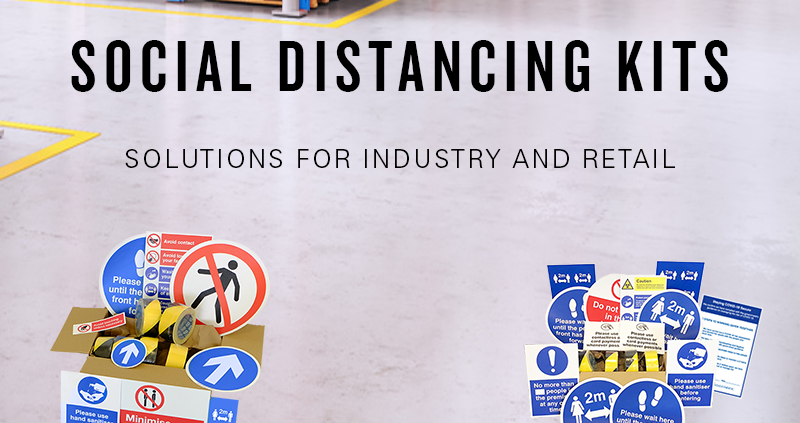 Necessity is the mother of every invention. And this was also the case for our Social Distancing Kits. Back in April our CEO Mike Ayres took part in a Business Leaders roundtable discussion organised by Make UK during which he met Darren Joint, CEO of Viking Signs, a manufacturer of safety and warning signs.
The main theme of the meeting was how to help businesses tackle the new health and safety challenge posed by coronavirus. With social distancing rules in place across shared spaces such as factories, supermarkets or hospitals, Advance Tapes and Viking Signs have been experiencing very high demand for their products, however, both Mike and Darren felt that something else can be done to help businesses and organisations implement social distancing guidelines.
Mike Ayres, CEO, Advance Tapes: "In order to keep Advance Tapes and Viking Signs open during the lockdown we had introduced strict health and safety measures on our sites such as tape markings and signs. The safety of our staff has been always our priority, but we also knew that especially in this difficult time many of our customers need to supply our products to critical industries. We thought that it is a great opportunity to share our knowledge and expertise and help other organisations to implement social distancing measures the same way as we did it."
Social Distancing Kits were then created. Both companies worked together to create a solution tailored to the needs of industry and retail which would include all essential tools to implement social distancing, in line with the guidance. Three weeks after the initial meeting between Mike and Darren our new product was launched.
James Ross-Smith, Marketing Manager, Viking Signs: "We are passionate about British manufacturing and we are always looking for others in the industry to work with. Advance Tapes and Viking Signs are in a situation where our products can help Britain get back to work safely. Pulling together a range that combines their high-performance tapes with our range of social distancing signs means we can offer packs to simplify the process of making workspaces safer for warehouse managers and retailers alike."
Mike Ayres, CEO, Advance Tapes: "Many businesses are struggling to find the right tools to make social distancing an integral part of the new workplace. There will be also lots of questions from non-essential businesses which are reopening. With our ready to use kits we want to provide an easy and quick solution and help manufacturers and retailers protect their staff, visitors and customers."
Industrial Social Distancing Kit
The Industrial Social Distancing Kit has been designed for industrial premises such as warehouses or production plants and is estimated to cover an area of approx. 20.000 sq. ft (or 1850 m2). The kit contains floor graphics, signs, stickers and rolls of AT8 Lane Marking Tape in yellow and AT8H Hazard Warning Tape in black and yellow. The contents of the kit allow any health and safety professional to create a clear, visual message so that the members of staff can easily adhere to social distancing rules.
– With relevant signage and black and yellow tape it is possible to control entrance and egress to the building or certain areas and limit the number of people.
– Yellow lane marking tape combined with floor graphics can be used to indicate one-way paths.
– General hygiene signs together with tape markings remind staff on site about good practices.
Retail Social Distancing Kit
The Retail Social Distancing Kit has been designed for small premises in services and retail sector with one entrance point and no more than 10 people on site. The kit contains signage and tapes that will help to enforce social distancing rules for staff members and customers.
– Relevant signage and tape help to control the entrance point to avoid overcrowding
– Tape and signs can be used to manage queues at the checkout reminding customers of keeping the recommended distance
– Relevant signs such as contactless payments or use hand sanitiser help to improve the overall hygiene in store.
Find out more how our Social Distancing Kits can help you protect your staff, visitors and customers. Get in touch with our customer service team while stocks last.
https://advancetapes.com/wp-content/uploads/2021/01/blog-post-picture.png
600
800
webmaster
https://advancetapes.com/wp-content/uploads/2021/01/logo.png
webmaster
2021-01-14 21:10:21
2021-09-03 10:59:02
Social Distancing made easy