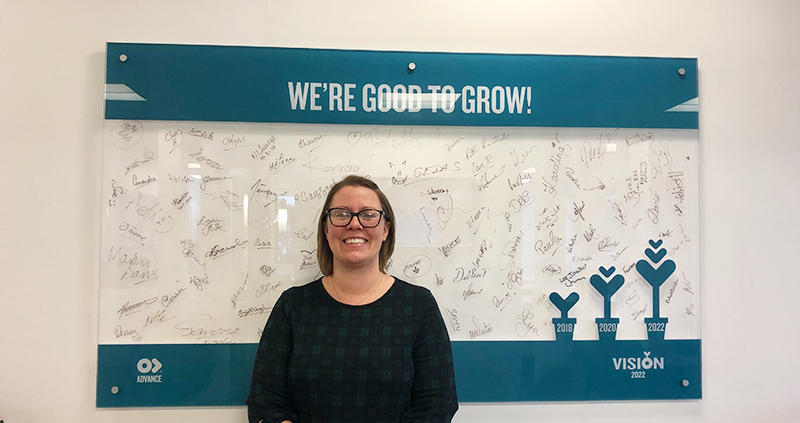 Meet Denny Scott, one of our Materials and Production Planners. We love her positive attitude and infectious laughter. Read on to find out more about Denny's life both inside and out of work.
How long have you worked at Advance?
I have worked at Advance for just over three years. Previously I was a Customer Project Manager for a beverage organisation.
How have your responsibilities changed since you started? My job title hasn't changed since I joined however my skills set has developed and therefore my responsibilities have shifted because of this. When I first started I was planning Range 1, Range 2 (<ahref="https: www.advancetapes.com="" tapetypes="" adhesive-pvc-tape="" "="">PVC machines) and the Arrow which are the easiest machines to learn the job on.</ahref="https:>
However, we had a team member leave and I took up some of her responsibilities so I now plan the Zimmer, the Calendar, the Slitter, the Logger and the CAMCO. Andrew Astill our newest team member now takes on the responsibility of the ranges. It means that I now have a good knowledge across a range of machines and can cover for Andrew when he is away.
Are you working on any new or exciting projects in the Planning department?
In the planning department we get involved with different projects across the business. For example, we are currently working on the relocation of our Banbury machine to the Coating site.
This Banbury machine reworks excess adhesive for reuse in adhesive manufacture. The Planning department are ensuring that we have the relevant materials available for the extra work that is planned to be carried out before the machine moves sites.
We also recently undertook a project with the Coating leadership team that investigated the order in which we plan adhesives. We made changes to the scheduling so that similar adhesives were scheduled next to each other for a smoother transition between products which increased efficiency. We now make the more difficult adhesives in four week cycles so we aren't making them every week.
If you could switch to any career what would it be?
When I was a kid I always wanted to be a lorry driver… I am unsure why. Now I think if I had the time and the finances I would train to be a midwife. The midwives that helped to deliver my kids were really good and I think it would be a really rewarding and terrifying career.
Who is the funniest person you work with and why?
Jo Somers (Materials and Production Planner), definitely Jo. She has the same sense of humour as me and Andrew Astill (Materials and Production Planner). She makes me laugh everyday and is just very very funny. She also said she would kill me if I didn't say it was her!
Do you have a secret talent or hobby that people may not know about?
I can fit my fist in my mouth but I don't think that necessarily counts as a talent… In the warmer months I like to go stand up paddle boarding with my husband and my kids to a club in Tamworth. My husband does it all year around and takes part in competitions. I definitely only do it when the water is going to be warm because I do fall in. Its great fun and sometimes in the summer we go in the evenings after work and its light and warm enough to dry off if we've fallen in.
Another hobby of mine is musicals. My favourite would have to be Hairspray or Rock of Ages. Me and a few others from work went to see Rock of Ages in Leicester last summer and it was brilliant. This year me Jo Somers and Sue Bradshaw (Buyer) are going to see Everybody 's Talking About Jamie and Six which I am so excited about. I love going to see musicals.
If you had £10 million what would you do with it?
I would have very little choice, my husband would immediately buy a house in Devon or Cornwall and we would have to move. He really wants to live next to the beach. I would take some time to decide if I wanted to carry on this career, retrain to become a midwife, or work for charities, maybe an ecological charity that's helping the environment.
What do you think you are best known for at work?
Oversharing.
If you could have a superpower what would it be and why?
To read people's minds, because I'm nosey. But only if I could turn it on and off, purely because I'm nosey.
What's your idea of success in your job?
That's a difficult question because you have daily successes, weekly success and overall successes. I would say on a daily basis its getting everything that you need to done and dealing with any issues that arise and on a weekly basis its ensuring that the plans are completed when they are supposed to and that if there are changes on one plan this is reflected on the others.
I love my job and the team I work in and overall I consider it to be successful if the team as a whole all go home having had a good day. Ultimately this means that we've achieved what we need to and enjoyed each other's company.
What do you like most about your job?
My team, I think we all work together really well and really compliment each other. We all have a similar sense of humour and can rely on each other for help and advice in our roles.
If you could swap places with anyone for a day who would it be?
I would like to swap places with Doris Day when she was filming Pillow Talk, one of the Rock Hudson films she did. Or Calamity Jane.
Where is your favourite place in the world?
Being at home with my kids and my husband.
https://advancetapes.com/wp-content/uploads/2021/01/Tape-Talk-pic-10.png
600
800
webmaster
https://advancetapes.com/wp-content/uploads/2021/01/logo.png
webmaster
2021-01-14 21:04:59
2021-09-03 10:59:02
Meet the Team Interview I Denny Scott