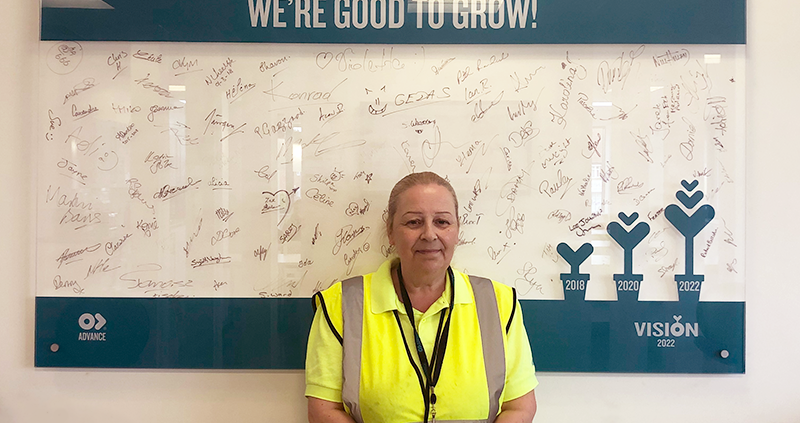 Meet Dawn Burton, one of our Converting Operators who is a key member of our team still on site, helping us to get our products to our customers who most need it. Read on to find out more about Dawn's career, interests, and the transition to working under social distancing guidance.
How long have you worked at Advance?
I have been working at Advance for a year. Prior to working here I worked in the Care sector for seven years during which I gained a Diploma in End of Life and Dementia. Before that I worked in security in the retail sector as a Loss Prevention Officer for twenty-three years.
When I applied for this role I was working for Sainsbury's and Nottingham Industrial Cleaners as a cleaner of the Advance converting site. It was during my time cleaning that I decided to enquire about a job as whenever I went on to the shop floor I loved the atmosphere and felt very at home.
I asked Will Holland (Converting Production Manager) if there were any vacancies however there weren't at the time but I filled out an application form and it was taken from there. So here I am nearly a year later and I'm still very happy in my role.
How have your responsibilities changed since you started?
Since joining I've gradually been building up my skills on different assets. I've been signed off on the training for SW1 and I've helped out on other machines such as SW2, Axon and SW4. I'm keen to keep up my training and learn as much as I can so I can be a multi-skilled Operator. I like to be able to move around the machines as this means I get to work with and get to know more of the team.
How do you feel about the social distancing guidance on site?
I think its working really well and its impressive how quickly the whole team has adapted to working in these new conditions.
We have lots of measures in place to keep us as safe as possible such as 2m floor marking around all workstations to protect operators, staggered shift changes and restricted numbers in the toilets and canteen amongst others. We have face masks, gloves and plenty of hand sanitiser on site which helps.
If you could switch to any career what would it be?
I did love working in security as I'm very good at reading people and don't miss a trick. I only lost one case during my twenty three years there, so perhaps I would go back to that. Or maybe I could try sales as I'm a people person and enjoy chatting!
Do you have a secret talent or hobby that people may not know about?
I enjoy camping and caravanning and I love animals. I have a Jack Russel, well I've been brought up with Jack Russel's all my life. My current one is called Milo, well Milo Moo Moo I called him. I love him! The only animal I don't like is spiders.
Who is the funniest person you work with and why?
Me! Actually, I would have to say Hamid Dahim (Converting Operator) he has a great sense of humour. For example, last year we were talking about Haggis and he thought it was a three legged animal that lived in Scotland and rolls downhills! He's so funny, he often has me in stitches.
If you had £10 million what would you do with it?
I would give some to the RSPCA and then I'd share the rest between my family. I wouldn't like to win millions as it wouldn't make me happy. I think money changes people and I don't want to change, I'm happy as I am.
What do you think you are best known for at work?
Chatting, I love chatting and joking with everyone in the team to keep morale going. Its particularly important at this time to keep everyone's spirits up so that is what I try to do and something I think I'm good at! Everyone's emotions can be so up and down during this time so I see it as part of my job to keep the team motivated and positive. I'm always happy, that's me. I also get called Dizzy Dawn but we are all laughing and joking, I know it's not serious.
If you could have a superpower what would it be and why?
I think I would be invisible so I could be a fly on the wall.
What's your idea of success in your job?
For me it's taking pride in what I do. I always think what would the customer think? I always like to produce something that I would be happy to receive.
What do you like most about your job?
Interacting with the team. I'm always happy at work and I always try to make others happy if they are feeling down.
Where is your favourite place in the world?
Home with my family. Especially, during these difficult times you realise just how important your home and family are.
If you could swap places with anyone for the day who would it be?
The first person that comes to mind is Paul O'Grady as he does lots of work with dogs which I love. I'd love to work for a dogs home like Battersea Dogs and Cats home, that would be great.
https://advancetapes.com/wp-content/uploads/2021/01/Tape-Talk-pic-1-4.png
600
800
webmaster
https://advancetapes.com/wp-content/uploads/2021/01/logo.png
webmaster
2021-01-14 21:05:30
2021-09-03 10:59:02
Meet the Team I Dawn Burton