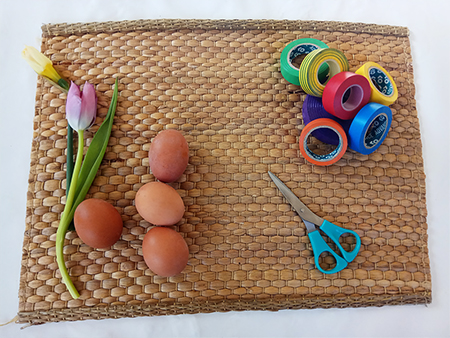 As Easter is fast approaching, we have put together some fun ideas how you can use our tape to create some fun Easter decorations.
Tape the eggs.
In many countries painting and decorating Easter eggs are part of Easter traditions. But have you ever thought about decorating eggs with a tape? To be on a safe side boil the eggs first and let them cool down. You can either tape the egg around or cut the tape in small pieces and paste them on the egg. These eggs have been decorated with our AT7 PVC Electrical Insulation Tapes and AT502  30 Micron Aluminium Foil Tape.  A nice alternative to traditional Easter eggs.
Paper decorations
For this decoration you can use a cardboard or a standard paper. Draw an egg, cut the shape out and use any tape to colour the egg. You can use an aluminium foil tape to get an extra shine. You can stick the decoration to the window or add a thread and hang it in a garden or on your front door. This colourful egg was decorated with stripes of AT7 PVC Electrical Insulation Tapes. The tapes are conformable and stick well to paper. They are also water and UV-resistant, so you can use the decoration outside.
Flowers with tape
It is spring and we all enjoy the beautiful flowers which are blooming in the gardens and parks. But do you know that you can make some flowers with adhesive tapes? You need a straw and stripes of tapes.  Cut a stripe of a tape and wrap the straw around it, so that you can have a stalk. Fold the remaining stripes of the tape and wrap them around the stalk trying to mimic the buds. A bit of patience and the flower is ready. For this decoration we used our AT6190 Extreme Tack Duct Tape  and AT175 High Quality Gloss Waterproof  Cloth Tape.  They both have high tack, so that the flowers won't unfold.
We hope you are going to have lots of fun with our ideas! Happy Easter and stay safe! Advance Tapes
https://advancetapes.com/wp-content/uploads/2021/01/Eggs-undecorated-lq-2.jpg
338
450
webmaster
https://advancetapes.com/wp-content/uploads/2021/01/logo.png
webmaster
2021-01-14 20:59:52
2022-04-12 14:51:03
DIY Easter decorations with adhesive tapes