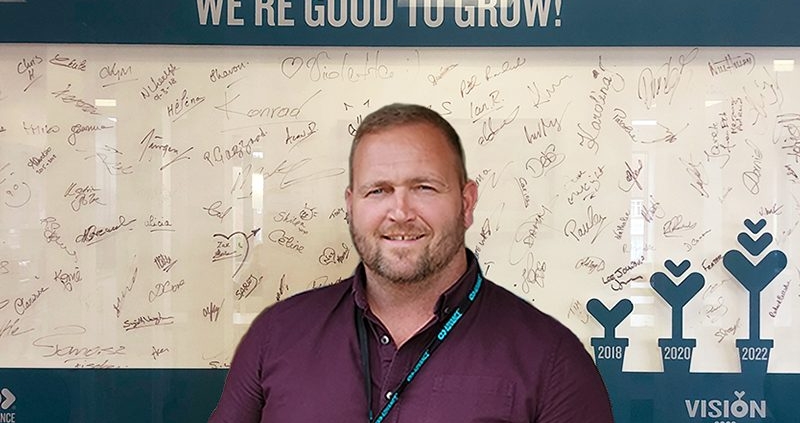 His dream career would have been to charter boats and to be a Close Protection officer at the same time. A holiday on Richard Branson's Necker Island would be a bonus. With a background in the military and extensive manufacturing experience, Lee Welch is well placed to lead our Coating Production site.
How long have you been working at Advance Tapes?
I've been working at Advance for 4 months now and it has, as you can imagine been very full on due to the current pandemic. I've had to get to grips with things quite quickly, but I've enjoyed the challenge.
Can you tell us more about your career prior to working at Advance?
After leaving school I went into the Royal Marines where I did Commando training, Artic Warfare training, Jungle training and Nuclear deterrent training up in Scotland. I also spent some time with the USA Navy SEALS and US Rangers on an island called Vieques. After leaving the Marines I went straight into manufacturing as a Production Operative at Eurocell and since then I have gradually worked my way up having been a Technician, Team Leader, Shift Manager and Production Manager at various organisations. During this time, I briefly had a stint in Sales. One of my more recent roles was as Production Manager at Warburtons.
What made you want to join Advance?
So, I actually applied for two other roles at the time I was applying for the Coating Production Manager position at Advance. I had received offers for all three but was really attracted to Advance as I enjoyed the interview process, I liked the company culture, and I thought I could make a real impact in the role. During the second phase of the interview I undertook a site tour with Carl Mills (Engineering Manager) and I knew immediately that we would get along. The collaboration between the Production Manager and Engineering Manager is a key relationship, so it was important I felt we could work well together.
Do you have any exciting projects taking place that you think people would be interested to know about?
At the moment I am concentrating on raising performance across the whole Coating site with a real emphasis on employee development. We want to ensure all employees are aware of what they need to develop in order to improve and progress. We want to make sure that more operators are trained across multiple assets so that as a business we are more agile and better placed to respond to changes in demand.
Waste reduction is also a key objective and something we are continually working. We have made vast improvements over the last few months and we need to aim to keep up this good work.
If you could switch to another career what would it be and why?
I really love the idea of chartering boats as a captain and having a close protection qualification so that guests feel comfortably safe at sea and when we hit land too. Although I really like rally car driving so it would be a close call between the two.
Who is the funniest person you work with?
It's a close one! I find Alan Gilding's (Customer Technical Manager) sense of humour great, it's very dry. I also think Carl Mill's (Engineering Manager) is very funny, it really makes coming into work very enjoyable. It seems as though I've been working at the company much longer than I have.
Do you have any hobbies outside of work that people may not know about?
Aside to loving my family life I like to walk my dog who is a cross Staffordshire Bull Terrier with Mastiff called Duke. I have had him since he was 8 months old and fostered him from a farm. He is now eight years old and is a big boy but very well natured.
I am also into my weight training which I do at the gym but unfortunately due to current circumstances I have not been able to do this the last few months. I am also looking to take up sailing as there is a club just down the road from me and I plan to begin a course as soon as the circumstances change.
If you had £10 million what would you do with it?
I would definitely keep working but I would invest the money in business and offer my wife the chance to give up work if she wanted.
What do you think you are best known for at work?
I've not been here long so that's a tricky question to answer. I would like to hope that people think I'm approachable and thankful for good work.
If you could have a superpower what would it be and why?
I would like to fly. Then again, my favourite superhero is the Hulk and he doesn't do too much other than jump around. Although I think being Hulk would help with the weight training.
What is your idea of success in your job?
Success to me is being able to deliver continuous improvements and to have a happy and engaged workforce who want to develop and do well.
What do you like most about working at Advance?
The ability to be autonomous. I like that Mike Ayres (CEO and Chairman) expects results but allows me to go off and deliver these through my own strategy. However, he's also there to bounce ideas around and generate input. I have only been here for a short period, but I do feel like Advance is a company that I will be at for a long time and I hope to progress.
If you could switch places with anyone for the day who would it be? And why?
I think it would be Richard Branson as I travelled by his island, Necker, in British Virgin Islands when on route to the Caribbean for Jungle training in Guyana. He has a superyacht called the Necker Belle which has a huge sundeck for parties, my dream.
https://advancetapes.com/wp-content/uploads/2021/01/Tape-talk.jpg
600
800
webmaster
https://advancetapes.com/wp-content/uploads/2021/01/logo.png
webmaster
2021-01-14 20:54:56
2021-09-03 10:59:03
Meet the Team I Lee Welch