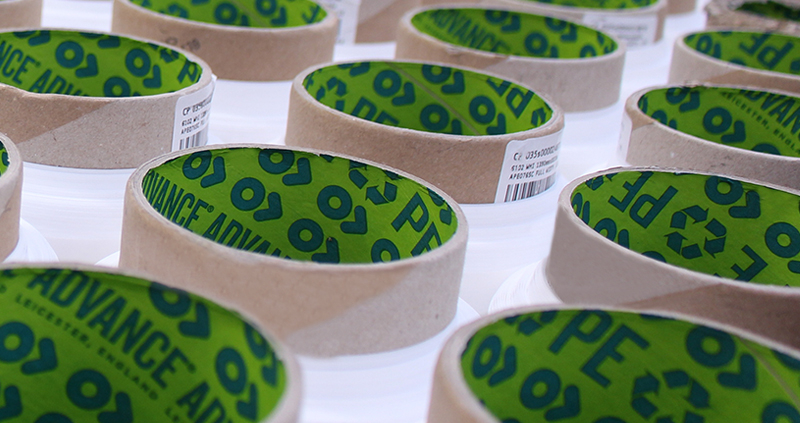 We've observed an interesting trend recently. Manufacturers, suppliers and end users are all taking much more of an interest in the environmental impact of the tapes they rely on, both right now and in the future. There are several reasons for this, from a growing focus on environmental issues in the news to the development of EU policy relating to chemicals.
As a result, market trends are shifting towards more sustainable practices. Here at Advance, we can even tell this is happening simply from the increased number of enquiries we've received about the raw materials we use, our manufacturing processes, and end-of-use information about our products.
How is the adhesive tapes industry reducing its impact?
As individuals take more of an active interest in the impact we all have on the environment, this is filtering through to company policies and targets for business throughout the adhesive tape supply chain. We are starting to see a lot more engagement throughout the industry on several issues, including:
• Compliance with REACH, the European Union regulation on Registration, Evaluation, Authorisation and Restriction of Chemicals (for more information, see our earlier article explaining REACH in detail)
• Product life cycle and carbon footprint analyses
• Reduction of hazardous ingredients, energy, and waste in production
• Use of biodegradable and renewable raw materials
• Process cost reduction and increased throughput
• Extension of lifetime of finished goods
All of these areas are subject to continuous research and development by our team here at Advance, as we continually strive to further improve the sustainability of our products. However, there many ways in which adhesive tapes like ours already contribute to positive change.
How can adhesive tapes help the environment?
In many cases, the use of any kind of adhesive tape (when compared to an alternative solution) could very well improve the ecological footprint of your product or project. Furthermore, certain tape products have been developed which are environmentally benign or otherwise leverage some environmentally-friendly processes or factors.
These include water-based and solvent-free tapes made without organic solvents or toxic chemicals. Therefore these tapes can be more readily recycled along with other industrial and construction wastes in existing recycling streams. In most cases, these products are primarily considered less environmentally impactful because their production creates less pollution and/or waste.
What more is being done to improve further?
At Advance, we take our responsibility to minimise our impact on the environment very seriously. As part of our sustainability plans for the future, as well as our desire to help our customers continually grow and improve, we plan to continue working on all of these areas to make sure our products are always at the cutting edge of sustainable technology.
https://advancetapes.com/wp-content/uploads/2021/01/Tape-Talk-pic-1.jpg
600
800
webmaster
https://advancetapes.com/wp-content/uploads/2021/01/logo.png
webmaster
2021-01-14 20:49:08
2021-09-03 10:59:03
How tapes enable sustainable solutions for your products