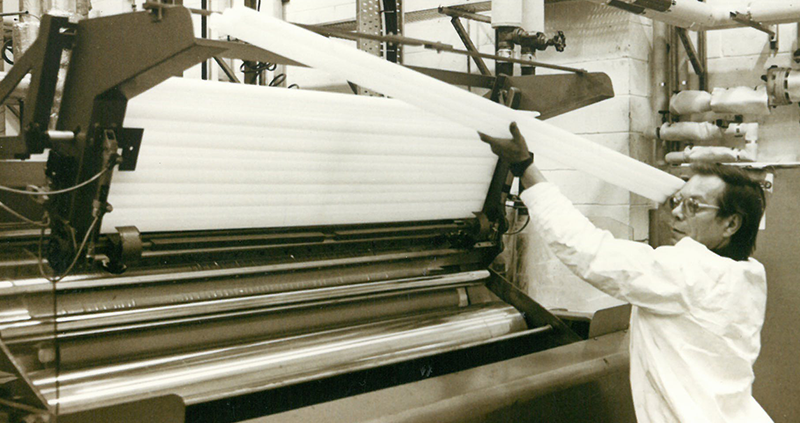 Advance Tapes has grown and changed a lot, since the company's humble beginnings in the early 1960s. Creating their own adhesive tapes business wasn't actually the original plan of the three founders:  David Ayres, Henry Charles Holyoake and Peter Hargrave.
The three originally worked together for another firm based in Lutterworth, until their employer unexpectedly decided to relocate the business to Lancashire. David knew his two colleagues didn't want to relocate any more than he did, so he approached the pair with a suggestion for a new venture in 1963. He proposed putting their expert knowledge of adhesives to good use and launching a business selling high quality tapes. Following a year of preparation, the founders secured a bank loan to start their new business, which was officially registered on June 15th 1964.
They are described as the perfect trio: David the accountant, Peter the salesman and Holly the creator. The name "Advance" was not chosen at random, but was in fact very strategic. Phone books were still the first place people would look when they needed to find a new supplier, and of course these are listed in alphabetical order, so the name Advance gave them a prominent spot on the first page, ahead of their competitors! By 1965, the company was ready to start producing adhesive tapes, although on a much smaller scale than we do today. At this point, the first three employees were hired: one person to spread adhesive on the tape, one cutter and one packer. The company turned over £25,000 that year, but just twelve months later they had already increased that figure by 400%.
In the late 1960s, David brought the company into Afera, the European Self-Adhesive Tape Association, who we have worked with ever since. In 1969, the Export Association presented Advance with a Gold Award for Export.
Already, the business was gaining an international reputation for quality products. Six years later in 1975, Advance Tapes France was founded, which helped the company to grow even further in Europe over the coming decades. Today, Advance is still run by the family of the original founder. The company employs 170 people across three sites: Advance Coating and Advance Converting in Leicestershire, not far from where the business first began, as well as Advance Tapes France which is based close to Paris.
We are very proud to operate in many countries across the continent and even beyond, offering products we've been able to continuously improve based on all those years of experience. Exports to countries outside of the UK make up over 80% of our sales today, with the company earning a reputation as one of Europe's leading independent manufacturers of adhesive tapes.
In the meantime, if you have any questions about the products and services we can offer, please don't hesitate to get in touch.
https://advancetapes.com/wp-content/uploads/2021/01/Tape-Talk-pic-3.png
600
800
webmaster
https://advancetapes.com/wp-content/uploads/2021/01/logo.png
webmaster
2021-01-14 20:06:20
2021-03-25 17:50:14
The Tale of the tape: The Origins of Advance Tapes