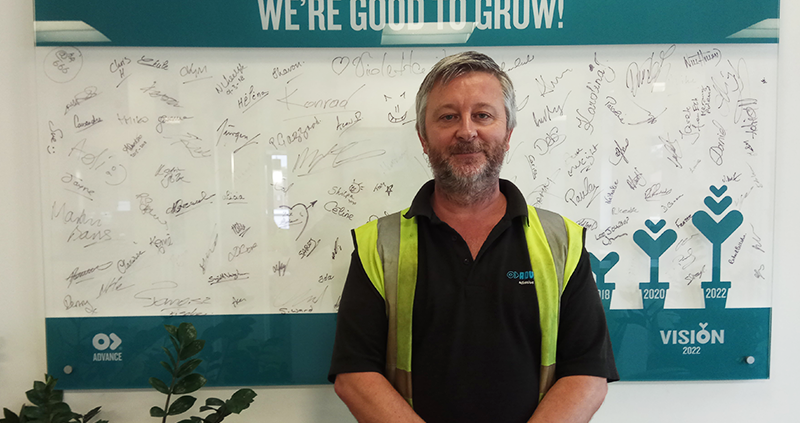 His dream career would be to have been a member of one the most inspiring bands ever the Beatles and if he could look like Henry Cavill that would be a bonus. Meet Gary Preston, Continuous Improvement Controller and one of the biggest music lovers at Advance.
How long have you worked for Advance Tapes?
 I have been working for Advance for over 15 years.
How have your responsibilities changed from when you first started?
 I started working at Advance Tapes as a Manager at our coating site in Leicester, UK. Of course, my role and my missions have evolved over the years. Thanks to the skills I acquired, I had the opportunity to join the quality and technical side of the business. I am using my knowledge and experience from my previous roles now.
My job title is Continuous Improvement Controller and this really describes my day to day tasks. I help and improve existing processes and push quality control and make sure that products that come to the converting site have the best quality that we can make and that at the same time we generate as little waste as possible.
Communication is really a key to my job as I am working closely with people across many departments like shop floor staff and managers. My role is very diverse and this is what I like the most about it.
In the past I worked on the production site, so I have quite a good understanding of the production process and how we can all contribute to constant improvement.
If you could switch to any career, what would it be?
 I would have loved being a member of the Beatles .I have a general interest in most genres of music and of course being a part of The Beatles would be a dream job if you can call it a job.
Meeting the fab four in their prime would have been great
Who is the funniest person you work with?
 Alan Gilding, our Technical Manager. He is really one of a kind, thank God.
If you won £10 million, what would you do with it?
 That's difficult. First thing would be to look after the family and friends, and then help some charities. I am not sure what I would do with the rest of that. It is really difficult question. I have already travelled a fair bit; maybe I would like to go to the US, but at the moment is not very appealing.
What are you best known for at work?
 I would like to say my wit and humour. But if you ask other people the answer might be completely different.
What are your interests we may not know about?
Spending time with my children and grandchildren are the most important pastime I have. I also enjoy travelling with the wife now the kids are all grown up.
Favourite local places I have been to have to be the Cavern Club and enjoy Dublin where I have been on a good few occasions
I am a massive music fan and enjoy listening to many artists with a particular keenness towards the early seventies and early eighties.
If you could have any superpower what would that be and why?
 I would probably say superman and if I looked like Henry Cavill which would be an additional bonus.
What's your idea of success in your job?
Getting results that show some real benefits to the business which hopefully prove that you are in the right place. I like going home with the feeling that I have put my best foot forward during the day. And generally to be successful means to me to be happy and enjoy what I am doing.
What do you like the most in your job?
Definitely the people, and i enjoy the daily challenges. We have a really good team and it's great to see how everyone tries to get better and improve our results.
What do you like the most about working for Advance?
Again the people, but also the job itself. It can be extremely interesting and worthwhile at times
https://advancetapes.com/wp-content/uploads/2021/01/Tape-Talk-pic-1-2.png
600
800
webmaster
https://advancetapes.com/wp-content/uploads/2021/01/logo.png
webmaster
2021-01-14 20:09:05
2021-03-25 17:52:32
Meet our team l Gary Preston