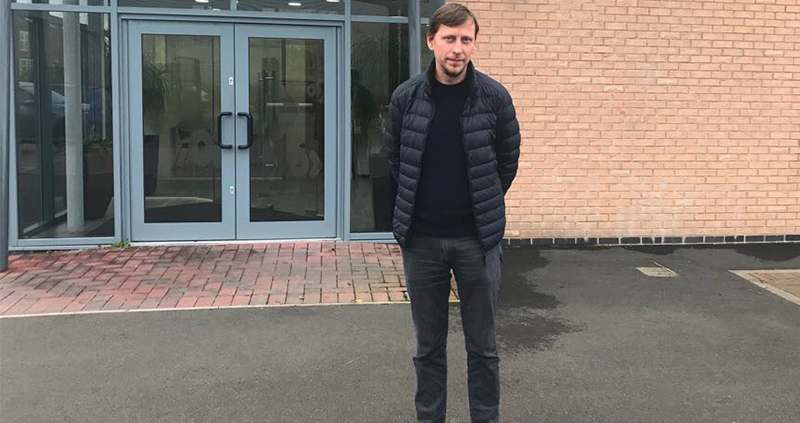 Marcin Dudek is a Polish born artist who recently presented his third solo exhibition, Steps and Marches, which took place at Edel Assanti (London) and Harlan Levey Projects (Brussels) from 22nd September through 4th November 2017.
We had the  great pleasure and honour to welcome Marcin to our premises in Leicester for a factory guided tour which gave us the perfect opportunity to  know more about Marcin's incredible journey to become a successful artist of international fame, his artistic process and what makes him "tick" creatively.
Tell us a bit about yourself.
Art was a way to escape from my past as a of Cracovia Hooligan firm, although it provides an autobiographical springboard for the Steps and Marches exhibition. I left Poland at the age of 21, in order to study at the Mozarteum Art School in Salzburg (from which I graduated in 2005) as well as Central Saint Martins in London (from which I graduated in 2007). Since then, I had the pleasure to exhibit internationally at venues such as Moscow Museum of Modern Art. I currently live and work between Brussels and Krakow.
What is the thing you enjoy most about working with tape?
The idea to use tape emerged from my work experience as a technician in art galleries across London, where I was working to support my study. Tapes offer flexibility which make them extremely easy to apply to smooth or uneven surfaces. They also can be used to create three-dimensional effect artworks and illusionistic trompe l'oeil perspectives. Tapes are great to explore concepts of line and space from organic forms to man-made structures.
But the best part about tapes is the endless possibilities of combination of shades, width, amount, size and number of layers which create something unique. It's the perfect medium to rapidly explore new ideas.
What made you choose AT201 Matt Cloth Advance Gaffa® Tape?
When I started my collages I was collecting amalgams of adhesive film, parcel tape, cloth tape, gaffer tape and grip tape from flea markets, DIY centres or pound shops. This was until I found by chance your products in a hire supplies shop in London. The quality of the tape immediately gave me a different perspective of what can be achieved. The texture and the thickness of AT201 enable me to cut it into multiple pieces in a 45C angle which is required for my collage. I particularly love its super matt finish.
I have now been using Advance Tapes products for the past 6 years.
Can you tell us about the process of making your work?
Planning is important when it comes to creating complex collages as every minuscule layer of tape is meticulously cut into different shapes and sizes by hand. For the large scale work, I would use a projector to give the first guideline on where to place the first line of tape, I also use projector to 'draw' with tape the photographs and include it in the collage. Then it is the fruit of a intuitive game of density, composition and dynamism. Patience is also a key element as sometimes it can take months to finish a collage.
One chapter of your Steps and Marches exhibition was recently presented in Edel Assanti Art Gallery in London and it was absolutely stunning. We had the feeling that the collage Confidence Frame as well as Too Cloose for Comfort was inviting the visitor to step in into this universe.
Exactly! Both of them demand the viewer's close attention and participation. The whole exhibition pulled visitors into a stadium, for example Recovery and Control forced visitors to enter the exhibition one at a time and Confidence Frame to examine an event from different perspectives.
The exhibition explore the role of the crowd psychology in a football stadium. Confidence Frame depict a sequence of moments in which fans confront riot police on the pitch. How would you describe the crowd behaviour in emergency evacuations?
Despite the mass effect, hooligans operate in well-organised groups and are led by strong personalities who – in time of crisis – play an important role in keeping everyone united. In general, we could say that the confrontation defines the moment the crowd exists.
Thanks Marcin!
To know more about Marcin Dudek: www.marcin-dudek.com
Discover AT201 Matt Cloth Advance Gaffa® Tape located at: https://www.advancetapes.com/products/at201/
https://advancetapes.com/wp-content/uploads/2021/01/Marcin-Dudek-at-Advance-Tapes_2.jpg
600
800
webmaster
https://advancetapes.com/wp-content/uploads/2021/01/logo.png
webmaster
2021-01-14 19:17:43
2021-01-14 19:17:43
Tape art: An interview with the artist Marcin Dudek