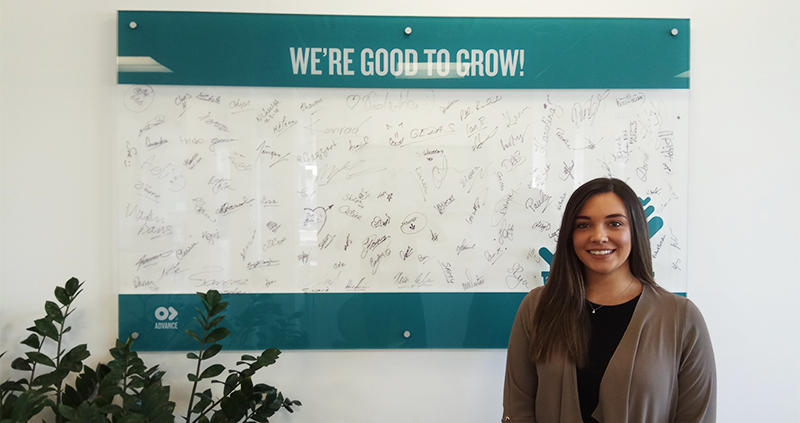 Fascinated by numbers, Kirsten Halford naturally chose to go into the accounting field.
Meet our enthusiastic Finance Apprentice, Kirsten, who share with us what it is like to work at Advance.
How long have you worked for Advance Tapes?
I have joined Advance in April 2017 and I am currently working as Finance Apprentice.
How have your responsibilities changed from when you first started?
I wanted to go straight into work after my A Levels and luckily there was a Finance Junior position available in the company where my mother works, Advance Tapes. This was supposed to be a maternity cover for 13 months, but the company not only offered me to stay on a permanent basis, they also encouraged me to study for a professional qualification.
You don't get this kind of offer every day and I really appreciate the fact that Advance Tapes provides me with so much support.
Since autumn 2018, I am attending the Loughborough College one day a week and have also onsite training to complete my AAT apprenticeship (Association of Accounting Technicians).
So as you can imagine, my role has changed a lot as I have taken more responsibilities recently.
At the beginning I was doing invoices, inputting the amounts on to the system and sending them out. I was also raising some maintenance orders.
Now I have taken on the responsibilities of checking the bank in the morning, checking the customers' accounts and matching them off to the payments. I am doing a lots of journals as well, it has a lot to do with months ending accounts.
If you could switch to any career, what would it be?
Would you believe me if I told you that I've always wanted to work in finance since school?
However if I was to switch career, I would hope it would be to run a small business of my own. Not sure what I would sell thought but I have always thought about that too.
Who is the funniest person you work with?
Emma Pallatt! She is just very bubbly and always happy. She always tells a joke, always makes a conversation. I really enjoy working with her.
If you won £10 million, what would you do with it?
I would book a very long holiday in a fancy destination. I would also buy myself and my nearest family a very nice house. And then, I would probably spend the rest on nice things like traveling and visiting new places.
What are you best known for at work?
Well, I don't know if there would be something yet, because I am still quite new. I am not really sure, you should ask my colleagues. So far no one has ever made a comment that I could relate it to. I think that if you have been here for a long period of time maybe it's easier to get some stories about yourself.
What's one of your interests we may not know about it?
I enjoy going to Leicester City Football to watch the team playing, I do that most weekends.
If you could have any superpower what would that be and why?
That's tricky, isn't it?  I think it would be probably time travel. I would like to have the ability to go back in time to change some things and go to the future to see how some things will plan out.
What's your idea of success in your job?
Positive feedback. I think if you get a lot of positive feedback and people give you more responsibilities, it shows that you are learning and you are doing your job properly and people just have confidence in you.
What do you like the most in your job?
I definitely like people I work with. But also, I like working with numbers. Even when I was at school, I always enjoyed working with numbers and I preferred maths rather than English.
I think that I really enjoy coming to work because I like people I am working with,
What do you like the most about working for Advance?
Definitely the people. And these are not only the people from my team, but in general the company as a whole. The directors are so friendly and approachable, I don't think you get that in many companies. The same applies to managers, everyone is very friendly and it's just nice to be working in such a welcoming environment,
https://advancetapes.com/wp-content/uploads/2021/01/Tape-Talk-pic-2-1.png
600
800
webmaster
https://advancetapes.com/wp-content/uploads/2021/01/logo.png
webmaster
2021-01-14 20:04:55
2021-03-25 17:51:11
Meet our team l Kirsten Halford