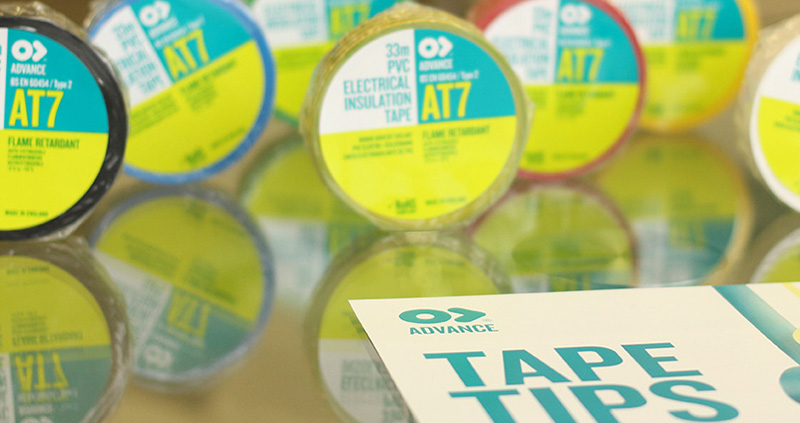 The purpose of electrical tape
Typically, tape is particularly useful for a few applications in the electrical market. These include:
Grouping and securing electrical cables together
Denoting cables that relate to a particular purpose or piece of equipment
Indicating cables that carry a particular voltage
Repairing damaged cables, to strengthen them and to safely insulate the live wire
Keeping cables out of the way to prevent them becoming a hazard
Protecting cables from abrasion, weather conditions and other damage
However, as we've mentioned, safety is always extremely important, hence we need to understand and adhere to the guidelines set out by the HSE to minimise risks.
What does the law say about electrical tape?
The HSE provides a detailed breakdown of the various BS EN standards, categorised by which specific areas they relate to. These include codes of practice for lighting, fire and security systems, heating, temporary electrical systems (often relating to entertainment), household and workplace appliances, and machinery for various industries and so on.
The HSE further explains that electricity regularly results in accidents, including fatal ones, and not necessarily just affecting those working directly with electricity. Electric shocks can directly cause burns and other injuries, but they can also lead to dangerous falls, and fires caused by poor wiring are an even bigger risk.
With this in mind, Advance's own AT7 tape conforms to the BS EN 60454 Type 2 standard, which relates to fire safety. The tape is both flame retardant and self-extinguishing, which helps keep the risk of fire to a minimum in accordance with the official standard.
The HSE also points out that electricity is more likely to lead to shocks, burns, fires or explosions in certain circumstances. For example, the presence of water, severe weather conditions or access difficulties can all increase the risk of damage and accidents. This general guidance also applies to any situation involving electrical tape.
In general, the HSE does not have any more specific demands when it comes to the physical properties of electrical insulation tape. Rather, it specifies that risk assessments must be carried out in order to establish the safest solutions, and that maintenance must be done properly on a regular basis. In many cases, the right tape can be vital in order to achieve this quickly, easily and safely.
Different types and colours of electrical tape
An important aspect of using electrical insulation tape is selecting the appropriate colour for your specific task. These are not chosen randomly or with aesthetics in mind; they each have a particular meaning. However, these are not universal, differing slightly between the US, Europe and the UK.
The UK-specific meanings of each colour are generally as follows:   Black – Insulation or low voltage, neutral* Red – Low voltage, phase B Blue – Low voltage, phase C Yellow – Low voltage, phase B Green – Earth
*It is worth noting that black tape is the most common in this area of work. In many cases, black will be used for actual insulation and repairs on all cables, and a single ring or label made from another colour will be used to indicate each of the above meanings.
As another note, the UK has fewer specific meanings assigned to colours when compared to Europe or the US, where white, brown, purple, orange or grey tapes may also signify different types of cables. While these colours are used in the UK, they are less common and there is no national standard for what they mean.
The advantages of AT7 and AT77
Based on all these safety and colour-coding requirements, Advance offers a range of HSE-compliant electrical insulation tapes. These are made from PVC, which offers exactly the right properties for this type of task.
Our most popular option is AT7 PVC Electrical Insulation Tape, which offers many great features that make it perfect for insulating cables.
Available in 12 standard colours, plus different length and width options
Flame retardant in accordance with BS EN 60454 Type 2
Easy unwind and easy tear to make electrical engineers' work easier and quicker
Flexible and able to conform to irregular surfaces, including cables of different shapes and sizes
Resistant to both water and UV light, giving it a long life even outside in harsh weather
Resistant to abrasion, protecting the tape and the cable itself from damage
In special cases, AT77 All Weather PVC Electrical Insulation Tape might be an even better choice thanks to its specific properties that make it even more hard-wearing under certain conditions. The advantages of AT77 include:
Even better UV resistance for longer-lasting performance outside in sunlight
Extreme temperature resistance, from -18°C to +80°C
Flame retardant conforming to BS EN 60454-3-1 Type 6
Extra resistant to ageing for continuous high performance
If you have any more questions about the required standards for electrical insulation and how our adhesive tapes can help, get in touch with our team and we'll gladly advise you. You can also review the HSE standards to check which points apply to your specific area of work.
https://advancetapes.com/wp-content/uploads/2021/01/5_AT7-Tape-Talk-pic.jpg
600
800
webmaster
https://advancetapes.com/wp-content/uploads/2021/01/logo.png
webmaster
2021-01-14 20:42:22
2021-09-03 10:59:03
A guide to electrical tape colours, features and UK safety guidelines