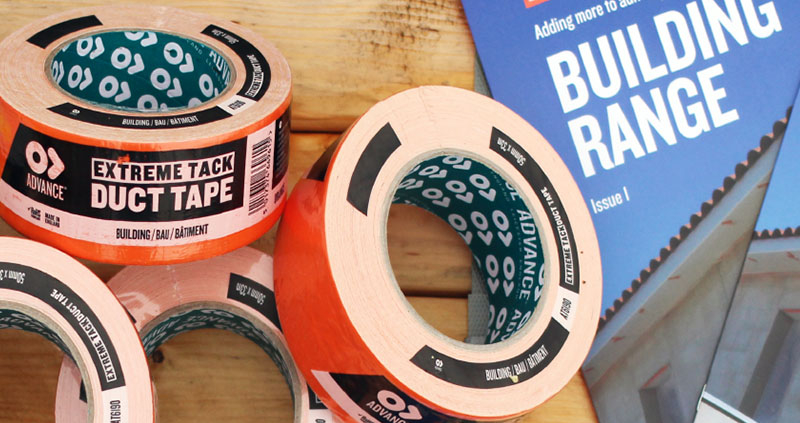 We're constantly developing and improving our range of products to better meet the needs of our customers. That's why we're excited to introduce our newest product, AT6190. This is a brand new, extreme tack orange duct tape, and joins our range of specialist cloth tapes for building professionals.
Ideal for masking, protection, fixing and maintaining PE-films.
EXTREME HIGH TACK: AT6190 is an extreme tack duct tape coated with a transparent, pressure-sensitive adhesive. The tape provides exceptionally high initial adhesion, ensuring it sticks immediately on dusty or humid surfaces. It's also strong enough to guarantee that PE sheeting will stay in place, even under windy conditions. Ideal for building facades, it provides excellent adhesion on smooth or rough surfaces such as blockwork, brickwork, stone, concrete, plaster, UPvc windows and doors.
EASE OF USE:  The medium unwind allows for controlled handling by ensuring the roll won't unravel if dropped accidentally, which is important when working at heights. The tape is still easy to tear, however, and will conform to awkward and uneven surfaces with ease. AT6190 will peel cleanly from most surfaces up to 4 days after application.*
VERY STRONG AND RESILIANT: This hard-wearing product offers particularly good resistance to abrasion, low temperatures, UV and water, making it ideal for all kinds of outdoor uses, even when it's exposed to the elements.
Please click HERE to download the AT6190 Technical Datasheet for more detailed information.
For more information about our brand new AT6190 Extreme Tack Duct Tape – Building, please contact your Key Account Manager or the sales office by emailing sales@advancetapes.com, or call us on +44 (0)116 251 0191.
* Testing to date has shown that AT6190 will peel cleanly for up to 4 days on many surfaces; however, various factors can affect the use and performance of AT6190 for particular applications. These factors are often not within the control of Advance Tapes.
https://advancetapes.com/wp-content/uploads/2021/01/Tape-Talk-1.jpg
600
800
webmaster
https://advancetapes.com/wp-content/uploads/2021/01/logo.png
webmaster
2021-01-14 19:26:40
2021-03-25 17:56:36
Discover our brand new AT6190 Extreme Tack Duct Tape