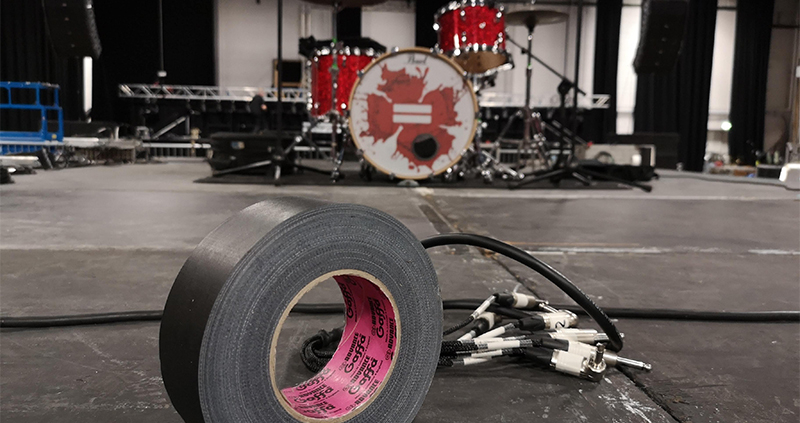 As you might have noticed, we love creativity when it comes to adhesive tape. Gaffer tape is one of the best examples, because it's designed to be user-friendly and versatile. That means it can be used for a huge variety of purposes, even way beyond what it was designed for.
In particular, users in the entertainment industry tend to find many, many uses for their trusty Gaffer tape. Here's a collection of some of the best examples, including some of the most practical and most creative ideas we've heard from our users.
Keeping your equipment safe and secure
Gaffer tape is perfect for securing cameras, cables and other equipment without leaving residue behind. (NB: we strongly advise you to check beforehand that the tape you are using has been designed to clean peel).
Gaffer tape is also excellent for protecting your equipment from rain when shooting outdoors.
Last-minute emergency repairs
Many events are organized with immense time constraints. At the slightest problem, Gaffer tape is the ideal solution. Whether for a temporary repair of the decor or your equipment, Gaffer tape is your best ally thanks to its superior adhesion and resistance to the elements. The only limit is your imagination and our users certainly have some! As this photo shows, it is possible to create a bin with only Gaffer tapes to collect drink cans.
Finishing touches for the perfect shot
The matt finish of Gaffer tape means it can subtly blend into the background of photos or video footage (even with bright lighting on set), so it can be used to conceal unwanted marks and blemishes if you have the correct colour tape to hand.
Marking the spot
Another useful trick for performers is to mark the places on the floor where they need to stand using Gaffer tape. The same applies if you need to place props in specific positions. This technique is commonly used for everything from theatre to television and concerts to music videos.
If you're a professional in the entertainment industry and you rely on Gaffer tape often, we'd love to know what you use it for. We can also offer advice if you're not sure exactly which tape to use. Simply get in touch and we'll be ready to help.
https://advancetapes.com/wp-content/uploads/2021/01/Main-picture.jpg
600
800
webmaster
https://advancetapes.com/wp-content/uploads/2021/01/logo.png
webmaster
2021-01-14 20:46:02
2021-09-03 10:59:03
Top 4 Uses For Gaffer Tape in the Entertainment Industry