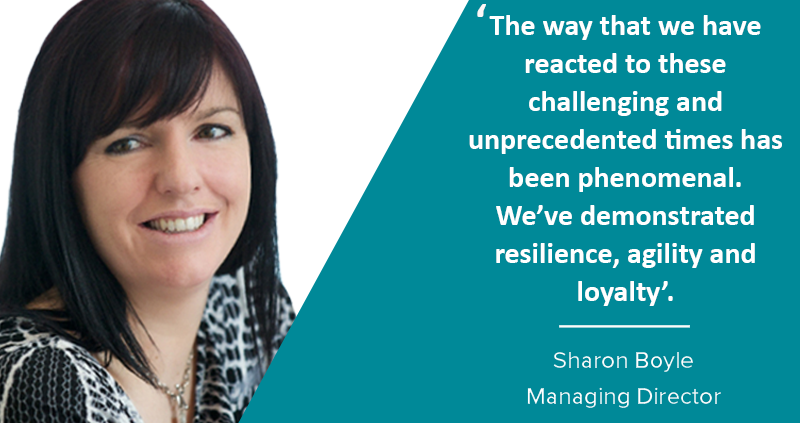 "The way we have reacted to these challenging and unprecedented times has been phenomenal. We've demonstrated resilience, agility and loyalty".
Meet Sharon Boyle, our recently promoted Managing Director whose experience, passion and customer focus has set her up perfectly to lead the Advance Team.
Her focus on teamwork and collective success means Sharon is well placed to lead our 5-year growth strategy, Vision 2022. Working her way up the ranks of Advance, Sharon is a great example of how at Advance we prioritise promotion from within. Read on to find out Sharon's reflections on 2020 and what we have to look forward to in 2021.
How long have you been working at Advance Tapes?
26 years! I joined in 1994 and I remember it was the 4th July so Independence Day, quite literally. Prior to working for Advance, I was living and working in Belgium and I was coming to the end of my 12-month fixed term contract. I went to a library in Brussels to do some research and look for a new job when I came across the magazine Marketing Week where I saw the job advert for Product Manager at Advance Tapes.
Unfortunately, the closing date had been and gone but I liked the sound of the job so much that I applied anyway and explained why I was late applying. Fortunately for me they hadn't found anyone on the first round of interviews, so I was invited to interview for the role. It was meant to be!
I was attracted to Advance as it enabled me to utilise my language skills and I always wanted to market and sell a physical product rather than a service. As this was a Product Manager role it kept the area I was working in broad as it wasn't too specialist and it was focused on the French market meaning I could continue using my French.
I had always envisaged living abroad either in Belgium or France. Even when I got the role at Advance, I thought I would only stay for a few years. Now here we are 26 years later…
How have your roles and responsibilities changed over the course of your career at Advance?
I started as a Product Manager and then was promoted to a New Business Development Manager role quite early on. My next move was due to being in the right place, at the right time. The UK Sales Manager left the business, and I was asked to cover it temporarily while they recruited. I ended up really liking it, so I asked if they would consider combining a Sales and Marketing role. I realised at the time that Sales and Marketing were working very independently so I thought it would be a benefit to align them. This was considered a good idea and I became the UK Sales and Marketing Manager, then Group Sales and Marketing Manager.
I was appointed Sales and Marketing Director in 2010, Commercial Director and now Managing Director. Like in any SME though, you are never confined to just one area and over the years I've had responsibility for HR, IT, Purchasing and Technical which has all stood me in good stead for the move to Managing Director.
What do you like best about your role and working for Advance Tapes?
It's the people. For me it starts and ends with the people. I think if you have the right people in the right jobs then that is a recipe for success. When you start your career, you are focused on yourself and your own development. However, as you progress into a management role you realise that your success is dependent on the strength and quality of your team and how well they do.
I enjoy setting goals, getting everyone aligned and then achieving them through great teamwork. Over the last few months since I've begun to take over these additional Managing Director responsibilities, I've really enjoyed seeing members of the team grow in confidence as they have subsequently had to take on more responsibility themselves. They have proven they can work at a higher level and it's so rewarding to see that.
While you can see the potential in others, people often don't see it in themselves or they don't have the confidence to believe in themselves. So sometimes it's necessary to throw people in at the deep end to prove to themselves that they are capable.
While personal success is gratifying, I find collective success even more rewarding as you can share in it with others. I'm very much a team player and in my personal life I've played team sports such as Gaelic football and netball and we still find ourselves talking about our victories from 20 years ago. You can reminisce and share in collective success years down the line which isn't really the case with individual success.
What projects within the business are you most excited about?
There are two key projects that I'm really excited about. The first is how much we are investing in the training and development of our people. We have invested in the Raising Performance in Operations programme that champions promotion from within through appointing Team Leaders from the shopfloor.
This programme is strengthening our first line management team through developing their leadership skills. While the Board can set the values, culture, and expectation of what it should be like to work at Advance it's the first line management who have the biggest impact on employee experience. If we have the right leaders in those positions, we can be confident that the employee's experience is exactly what we want it to be.
We have recently appointed Health, Safety and Training Coordinators who are playing a critical role in coordinating internal training and helping to upskill the workforce. Additionally, we are working towards implementing a new pay and grading structure which incorporates our new appraisal system, We Matter, which will drive internal development. This is a big project and I'm excited to see it all come to fruition in 2021.
Secondly, I'm excited about the digitalisation of our business. From an external point of view, we are aiming to make it easier for customers to do business with us, through making product selection and purchasing easier. This is all being driven by our digitalisation agenda. Internally, we are aiming to automate and digitalise our internal process to increase productivity. We have already proven this year that investment of this type leaves more time for value adding activity.
How would you reflect on Advance Tape's performance in 2020?
It was a tough and challenging year. It's the first year where not only is the business facing tough market conditions, but each individual employee is facing their own personal challenges. The way that we have reacted to these hard times has been phenomenal. Most people have worked harder for less, whether that's through furlough pay, pay cuts or taking on additional responsibility. We've demonstrated resilience, agility, loyalty, and I think we've seen that with our customers and suppliers as well. We've made huge changes to the way we work, and I believe these circumstances have accelerated many decisions but for the better.
We've had some great wins this year such as the development of our Social Distancing Kits that have shown how quickly we have been able to get a product to market. Being Runner Up for the Manufacturing Matters Award at the Make UK Awards was recognition of that.
Another positive outcome of this year has been the return of many customers back to a European supply. Businesses have recognised the benefits of working with a locally based manufacturer such as shorter lead times, lower MOQ's, flexibility, on hand technical expertise and I think this is something we can build upon.
I'm also proud of the strategy that we have adopted to review our overheads. It would have been easy to simply just cut costs, and while that was necessary to some extent, we've also taken this year as an opportunity to invest in quick payback projects. This includes purchasing new converting machinery which will quickly pay for itself through increased productivity.
What opportunities does 2021 bring?
There are opportunities for employees to train, develop and grow their skills. We've always followed the mantra that happy staff equals happy customers. Many of our staff who have worked from home for a long period have expressed a desire to maintain flexible working practices, which we are happy to accommodate.
In terms of sales, I think there is a great opportunity to grow our sales both European and UK. We are relieved that a Brexit deal was reached as 80% of our customer base is outside of the UK. We are fortunate to serve such a diversity of markets so while we have seen some markets very badly impacted by COVID-19 such as the entertainments industry, others have flourished such as the industrial consumables and health and safety markets.
We have recently won new customers who sell exclusively on-line and we believe this is a great opportunity to grow our sales. Many of our existing distributors also recognise that opportunity and have invested to grow their online sales platforms and we will work with them to expand sales through these channels.
What is your idea of success?
Success is working collectively to achieve a common goal. It comes through having the right people in the right seats. It comes through having a clear strategy with clearly stated objectives and critically, alignment at all levels of the business on how to achieve it so that the right decisions can be made at a local level. Something that is particularly required in manufacturing is the ability to solve problems and success here is knowing that they have been solved permanently. To do that takes investigation and analysis and for that to be effective we need a culture of openness and honesty and continuous improvement. Success is when the people describe our business culture in that way, both our employees and our customers.
What are you looking forward to in your new role?
My 26 years at Advance have been spent in a commercial role of one form or another so it has been all about our customers, and so I am excited that it means that I'm bringing the customer even closer to our business and ensuring our customers remain its focus. Provided we have the right people onboard and we listen to our customers, we have a winning combination.
https://advancetapes.com/wp-content/uploads/2021/04/Tape-Talk-pic-updated-1.png
600
800
Nick Noon
https://advancetapes.com/wp-content/uploads/2021/01/logo.png
Nick Noon
2021-04-12 10:43:59
2022-03-08 11:45:41
Meet the Team I Sharon Boyle