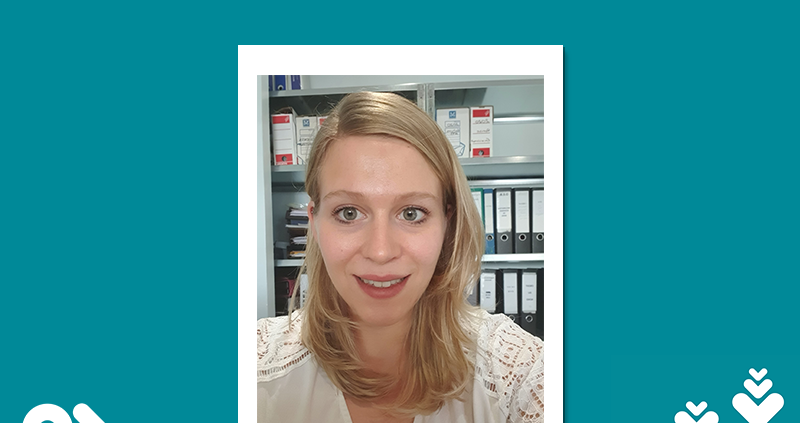 This month we would like you to meet Cécile DRAPIER, our Customer Service Coordinator who is based in our French subsidiary in Meaux! Read on to find out more about Cécile's career at Advance and her hobbies.
How long have you been working at Advance Tapes?
I have been working at Advance for about three years. Initially I was on a fixed term contract to fill in for an employee that had taken time out to do some training. However, nearly three years later here I still am!
Can you tell us more about your career prior to working at Advance?
Before I started my diploma course at the university, I spend 9 months in Santa Barbara in the USA and studied English. After that I started a 2-year degree in Sales techniques, then a 1-year degree in International Trade. I also took part in a study-work programme and became an apprentice. During my apprenticeship, I worked at Adecco, a temporary employment recruiter and after my graduation I continued in this field with another temporary work recruiter called Interim 77 for a few months and this is when I learned about the opportunity at Advance.
How have your responsibilities changed since your arrival?
When I arrived at Advance, I had a good foundation in terms of customer relations, however my skills have developed a lot since I started my position as Customer Service Coordinator. I had never worked for a manufacturer before and I had to learn a lot about the business model. When I arrived, I took part in a 1-month training to learn about our company, our way of working, and to get familiar with products and their key features.
Today, I am working closely with the key account manager Alain Faure. I have also had the pleasure of visiting some of our larger clients over the past year.
My role is not limited to customer service, I have also had the chance to develop new skills and I took some training in accounting and logistics.
If you could switch to another career what would it be and why?
I would particularly like to study human behavior and psychology. I find the brain a fascinating and complex organ. I think that psychology is one of the few disciplines that goes beyond being a choice for a career but enriches us as people and allows us to develop and have a much broader vision of our reality.
Do you have a secret talent or hobby that people might not know about?
Not really, but my hobby is traveling. I like to discover new countries, cultures and traditions. I find it fantastic to step out of your comfort zone and open your mind to other environments.
Otherwise I also enjoy mediation, hiking, and weight training which I practice whenever I get the chance.
Who is the funniest person you work with?
Arminda! Her inconspicuous appearance may trick you as she has really great sense of humour and loves joking. She has an infectious laugh and an incredible joy for life. We often chat with each other outside of work and send each other some jokes. We love self-mockery, and always have plenty of jokes about ourselves!
If you won £10 million, what would you do with it?
In all honesty, I don't think I would know what to do with this money. I think money doesn't buy happiness; it just helps. So, I would share this money with my family, I would invest in real estate and I would help local associations (children charities, sports clubs, etc.).
What are you best known for at work?
For my excellent coffee!(This is a joke because, I am the one who often serves the coffee in the morning, so my team will understand that). Kidding aside: let's say that in France I embody youth, I am the youngest of our team.
If you could have any superpower what would that be and why?
There are so many… But my two preferences would be telepathy and teleportation.
What's your idea of success in your job?
For me it's working to the best of my ability and learning from my mistakes. Always tell yourself that we can do better.
What do you like the most in your job?
Contact with our customers. My father used to work for Advance and when I was a child, and he was able to provide me with lots of insights about our customers e.g. their passions ect… I think it is really important to be able to maintain these close relationships.
What is your favourite place in the world?
There's a song by Orelsan that says "Deep down I think the Earth is round, for one good reason: After you've been around the world, all you want is to be home." So I think my answer is obvious!
If you could swap places with someone for a day, who would it be?
I would like to be Mike Horn, the famous adventurer, so that I have some survival skills and be able to push my limits.
https://advancetapes.com/wp-content/uploads/2021/01/Tape-Talk-pic-12.png
600
800
webmaster
https://advancetapes.com/wp-content/uploads/2021/01/logo.png
webmaster
2021-01-14 21:15:34
2021-09-03 10:59:02
Meet the Team I Cécile Drapier