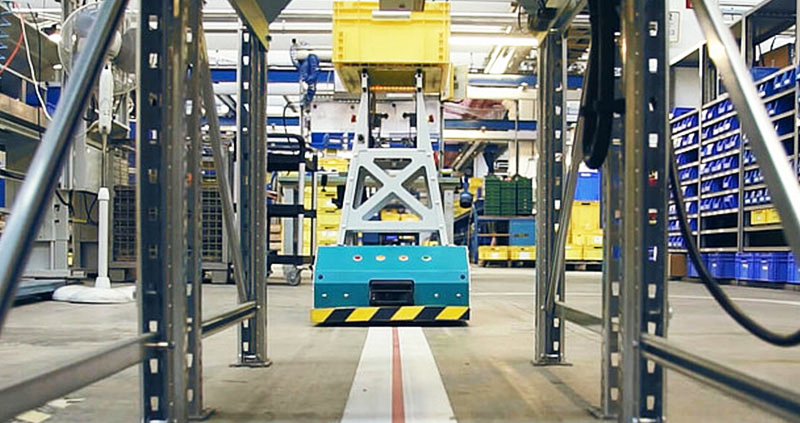 We were recently very pleased to hear that one of Advance's most widely-used products, AT7 PVC Electrial Insulation Tape, had been selected by BITO Systems to become part of a breakthrough system of improvement of flexibility and efficiency of production operations.
BITO Systems is an international manufacturer based in Germany but operating globally. BITO specialise in storage solutions, particularly for industrial environments, including containers, shelving and pallet racking systems. To meet the needs of their customers, BITO Systems has recently developed an Automated Guided Vehicle (AGV) called LEO Locative, to ensure fast material transport and reduce travel during the production process.
LEO Locative has been designed to carry bins, containers and cartons of size 600 x 400 mm and accepts loads up to 20 kg. Its battery life is approximately 8 hours. Navigation commands and tasks are transmitted via markers on the floor. BITO Systems have produced this great video showing how it works in more detail. 
In order to make this innovation possible, BITO Systems was looking for a floor marking solution to enable a decentralised and completely autonomous "plug and play" navigation system that allows for quick installation without infrastructure or external support. Indeed, vehicle routes are defined by simply sticking an adhesive tape on the ground.
BITO considered and tested many different options for lane marking tape, looking at several key criteria including: conformability on uneven or smooth surfaces, clean peel, colours available, durability and resistance to abrasion.
Following their extensive research, the product development team at BITO Systems determined that AT7 PVC Electrical Insulation Tape, one of Advance's most popular products, was the best solution for this application.
Not only were AT7's properties a perfect match for BITO Systems 'requirements, it significantly outperformed similar products during the team's testing process.   The LEO Locative recognizes the colours of the track that indicates the right path. AT7 is offered in red, blue and green, to identify the different routes.
With the help of AT7, BITO were able to complete the implementation of their AGV system, which has proven extremely successful. Since its launch, many international manufacturers have adopted this revolutionary system which have been an integral part of the prestigious award-winning "UK Logistics Award" project that BITO Systems has realized at Siemens Industrial Turbomachinery (Lincoln) in 2018.
The Advance Tapes team visited the BITO Systems showroom in Nuneaton (UK) in November 2017 and is now looking forward to another opportunity to see the Leo Locative in action.
https://advancetapes.com/wp-content/uploads/2021/01/Tape-Talk-pic-1-3.png
600
800
webmaster
https://advancetapes.com/wp-content/uploads/2021/01/logo.png
webmaster
2021-01-14 20:39:24
2021-03-25 17:40:18
Case Study: AT7 on track for success with new AGV solution