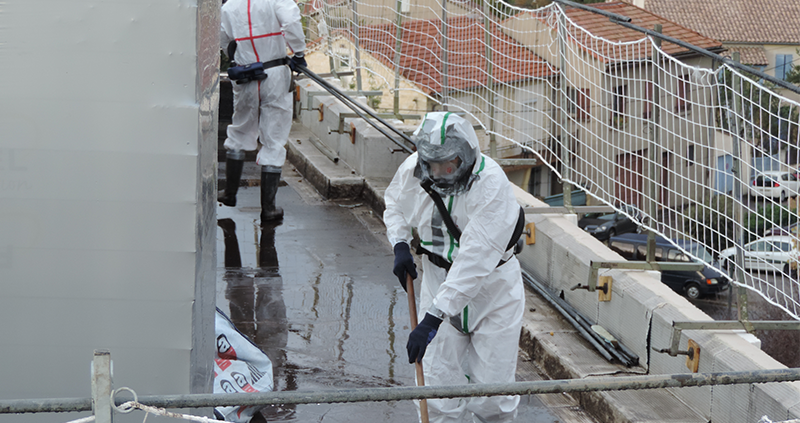 Asbestos was used in many construction applications in the 20th century because of its fire properties and its low cost.
Although its use has been banned for years, asbestos still remains present in many buildings, specifically in ceilings, floors, walls and in roofing materials.
Many professionals still come into contact with this hazardous material on a day to day basis, such as plumbers, gas fitters, electricians and construction workers. To protect the individuals' health and safety, regulations have been set up by authorities to cover the use of personal protective equipment.
When handling or removing dangerous materials such as asbestos, it is essential for the safety of every professional that they have at their disposal Personal Protective Equipment (PPE). This should be designed to meet the difficulties of the job and be compliant with current regulations.
Protect your employees
In addition to masks and overalls, adhesive tapes play a fundamental role in ensuring the safety of professionals on contaminated construction sites.
The protection of the professional is paramount in the removal of asbestos and the need to ensure a complete seal around PPE is critical, i.e. head, legs and hands. It is therefore necessary to choose a strong and durable adhesive tape suitable for this application.
Each of our products are tested in our laboratory to ensure they meet high quality standards. Advance Tapes offers professionals products combining strength, flexibility, security, chemical resistance and reliability.
Our AT171 Cloth Tape is recognised as a reliable product by asbestos removal operators for the sealing of personal protective equipment with application being easy to apply to the overall (Type 5 (BS EN ISO 13982-1+A1))
AT171 has been tested to withstand high and low extreme temperatures (-10 ° C and + 45 ° C when applied) and it provides a strong and durable adhesion on smooth, difficult or dusty surfaces.
Available in 50mm and 75mm, this tape creates a waterproof seal in all weather conditions.
How to apply the adhesive tape?
Upon arrival on a contaminated project site, every operator must put on their Personal Protective Equipment (PPE) as it is their final defence against asbestos fibres.
Firstly, the operator puts on his disposable overalls – Type 5 (BS EN ISO 13982-1+A1) and applies the tape along the zipper and around the neck to provide a closed seal.
Depending on the risk assessment of the site and the level of fibres expected, the worker protects himself with a respiratory mask or a power assisted filtering helmet. Tape then needs to be applied all around the mask or the helmet. The operator will need to leave enough "give" to be able to turn his head without ripping the overall.
The operator then puts on his gloves and secures them with the cloth tape.
Additional tape is applied to seal the suit at the boot junctions with the strong tape to keep asbestos fibre from entering the boots. When the tape is applied, ensure enough "give" is left to enable movement.
Need more information ?
Adhesive tapes can be used throughout the process of decontaminating, from removing asbestos to waste disposal, for example:
Sealings overalls
Joining and sealing polyethylene sheeting
General on site use: fixing mirrors, attaching notices indicating a Temporary Storage Area for Waste, etc.
Sealing waste bags.
If you're not sure which tape is right for the job, why not ask the experts? Our team are happy to advise you, with up-to-date knowledge about the ideal applications for each of our products to help you make the right choice.
For more information about our duct tapes, please contact us on + 44 (0) 116 251 0191 or send us an email sales@advancetapes.com
https://advancetapes.com/wp-content/uploads/2021/01/Tape-Talk-pic-2.png
600
800
webmaster
https://advancetapes.com/wp-content/uploads/2021/01/logo.png
webmaster
2021-01-14 20:01:05
2021-03-25 17:51:29
Adhesive tape for the safety of professionals working on contaminated construction sites